8 Easy Alcohol-Free Cocktail Ideas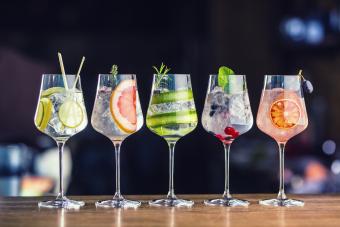 Just because a cocktail is alcohol-free doesn't mean it can't be fun and delicious. These tasty alcohol-free mocktails bring all of the fun without the booze; they taste great, and they're perfect for parties and other occasions when you want to feel festive. Whether you're the designated driver, you're having a party and don't want to over serve, you're under-aged, or alcohol isn't your thing, these alcohol-free cocktails are certain to please.
8 Tasty Alcohol-Free Cocktails
There are endless possibilities for virgin cocktails. Be creative and serve your faux cocktail in a fun and festive way. Keep on hand colorful garnishes, plenty of ice, and some decorative glasses to turn your mocktail into something spectacular.
1. Cranberry Sparkler
This refreshing drink is great on a hot day.
Ingredients
Ice
6 ounces of cranberry juice
Juice of one lime
2 ounces sparkling water
Orange wedge for garnish
Instructions
Fill a highball glass with crushed ice.
Add the lime juice and cranberry juice.
Top with sparkling water and add an orange wedge for garish.
2. Nonalcoholic Sangria Punch
Sangria is a boozy wine punch that's fun, fruity, and delicious. Use a non-alcoholic red wine, such as Ariel, to add a nice wine flavor with none of the booze. This recipe makes 6 servings.
Ingredients
1 750 mL bottle of nonalcoholic red wine
1 orange, sliced
1 lemon, sliced
1 lime, sliced
1/4 cup orgeat syrup
1 cup orange juice, chilled
1 cup soda water, chilled
Ice
Instructions
In a pitcher, combine the nonalcoholic wine, orange slices, lemon slices, lime slices, orgeat syrup and orange juice. Stir to combine and refrigerate for at least three hours.
Add ice and club soda to fill to the top.
3. Nonalcoholic Mint Julep
Channel your southern side with a nonalcoholic mint julep. Traditionally made with bourbon, this refreshing mint julep uses fresh mint, cola, and simple syrup for a drink that's sweetly southern. Or, get dressed to the nines including your fanciest chapeau, and host a Kentucky Derby viewing party just so you can serve these.
Get bonus points for serving your julep in traditional julep cups garnished with sprigs of mint.
4. Alcohol-Free Bellini
Hosting a baby shower brunch? This nonalcoholic drink is the perfect accompaniment; it tastes special occasion-ish, but even the mom-to-be can enjoy this delicious brunch mocktail.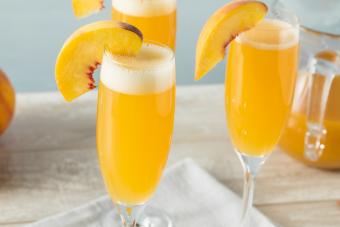 Ingredients
2 ounces peach nectar
Sparkling apple cider
Peach slice for garnish
Instructions
Pour the peach nectar into a champagne flute.
Slowly top with the sparkling cider.
Garnish with a peach.
5. Virgin Mary
This drink is perfect for brunch or anytime of the day. It has a kick to it, so you won't notice it's alcohol-free.
Ingredients
Ice
3 ounces tomato juice
1/2 ounce of freshly squeezed lemon juice
Dash of Worcestershire sauce
Pinch of celery salt
Pinch of ground pepper
1/2 teaspoon of Tabasco sauce (or to taste)
Celery stalk and leaves for garnish
Instructions
Fill a highball glass 1/2 full with ice.
Add tomato juice, lemon juice, Worcestershire sauce, salt, pepper, and Tabasco. Stir.
Garnish with a celery stalk and leaves.
6. Virgin Strawberry Daiquiri
What's more festive when you're sitting poolside than a frozen berry drink in a fabulous cocktail glass? Enjoy a virgin strawberry daiquiri blended with love and garnished with a strawberry for a fun summertime mocktail.
7. Blackberry Nojito
Mint and blackberries are the perfect refreshing mocktail; this blend is a take-off on the traditional mojito only without the rum.
Ingredients
10 mint sprigs
1 ounce blackberry syrup
Juice of 3 limes
Ice
Club soda, chilled
Mint sprigs, lime slices, and fresh blackberries for garnish
Instructions
In a cocktail shaker, combine the mint sprigs and blackberry syrup; muddle.
Add the lime juice and ice. Shake to blend and chill.
Pour into a rocks glass half-filled with ice.
Top with the club soda. Stir.
Garnish with mint sprigs, lime slices, and blackberries.
8. Strawberry Cucumber Mule Mocktail
Choose your favorite gingery ginger ale for this recipe; the brighter the ginger flavor, the better.
Ingredients
5 basil leaves, plus more for garnish
3 strawberries, sliced, plus more for garnish
2 cucumber slices
1/2 ounce simple syrup
Juice of 2 limes
Ice
Ginger ale
Instructions
In a rocks glass or mule cup, muddle the basil leaves, strawberries, and cucumber slices.
Add the simple syrup and lime juice. Stir.
Add crushed ice and ginger ale to fill up the cup. Stir.
Garnish with strawberry slices and basil leaves.
More Nonalcoholic Cocktails
Looking for more? There are plenty of nonalcoholic cocktails you can make.
Tips for Making Great Alcohol-Free Cocktails
Want to make your mocktails stand out? Consider these tips.
Always garnish your drinks. There are plenty of creative and fun garnish ideas you can try.
Choose fun glasses. Consider investing in traditional barware, such as fun cocktail glasses and more, and use those to serve your drinks to make them seem more special.
Add a dash of bitters; it will add interesting notes to your mocktails while remaining alcohol-free.
Create infused simple syrups for your mocktails. When you make simple syrup, add some fresh herbs or aromatic whole spices while it simmers, and then strain out the solids to add pizzaz to your cocktails.
Citrus juice adds balance. If you're making a super sweet cocktail, always add a squeeze of lime or lemon to balance flavors so they don't become cloying.
Add fruit slices and herb sprigs to sparkling water for a quick, refreshing non-alcoholic cocktail.
Add fun touches such as paper umbrellas, fruit skewers, or interesting straws to take your mocktails to the next level.
No Alcohol Needed
There are endless possibilities when it comes to alcohol-free cocktails. Just about any of your favorite cocktails can be turned into an alcohol-free version. These alternatives are just as festive and tasty as the regular versions, plus you won't have to worry about overindulging.