Recipes for Drinks Made with Vodka
If you're looking for recipes for drinks made with vodka, you've come to the right place! Vodka cocktails are always a hit, and with just a few ingredients, you can mix up some fabulous drinks that will leave your buddies begging for more.
Recipes for Drinks Made with Vodka
Here are a few drinks made with vodka that you might enjoy. Try them out to see which if your favorite, or maybe develop a recipe of your own!
Vodka Rhubarb Twist
2 ounces rhubarb compote or rhubarb jam
2 ounces half and half
2 ounces of your favorite vodka
1/2 ounce Galliano
In a cocktail shaker filled halfway with ice, combine all the ingredients and shake well. Serve in chilled martini glasses.
Vodka Tonic
2 ounces vodka
Your favorite brand of tonic water
Pour the vodka into a highball glass over ice cubes. Fill with tonic water, stir and drink.
Vodka and Grapefruit Cocktail
2 ounces of premium vodka
5 ounces grapefruit juice
Lime wedge
Pour the vodka and grapefruit juice into a chilled shaker. Fill a highball glass with a handful of ice cubes, and then dump them into the shaker. Shake well, and then pour drink into a highball glass. Garnish with a lime wedge and your drink is ready to be enjoyed.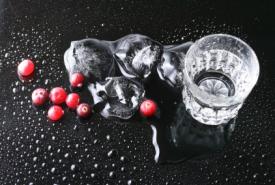 Vodka combines well with fruit flavors.
Spring Rain
2 ounces vodka
Juice of half a lime
Lemon/lime flavored soda
1 lime wedge
Pour the vodka and lime juice into a Collins glass and drop in a few ice cubes. Place the lime wedge in the glass, and fill the rest of the way with lemon-lime soda. Stir well and serve.
Brown Eyed Baby
4 ounces of vodka
1 1/2 cans of your favorite cola
A shot of grenadine
In a pitcher filled halfway with ice cubes, combine all the ingredients and stir well, taking care not to let your cola fizz over. Serve this beverage in chilled highball glasses.
Vodka Gibson
1/2 ounce dry vermouth
2 ounces your favorite vodka
Pearl onions
Pour the spirits into a mixer filled with ice. Stir the contents and strain the drink into a chilled glass. Garnish with one or two pearl onions.
Vodka Clear with a Twist
1 ounce vodka
3 ounces flavored mineral water
Take your favorite flavored mineral water and mix it with a shot of your smoothest vodka in an on-the-rocks glass over ice.
Many Options
This is just a small sampling of drinks made with vodka, but it gives you an idea of just versatile vodka can be. There are many other great mixed drinks featuring vodka that you can try.