Non Alcoholic Fruit Cocktails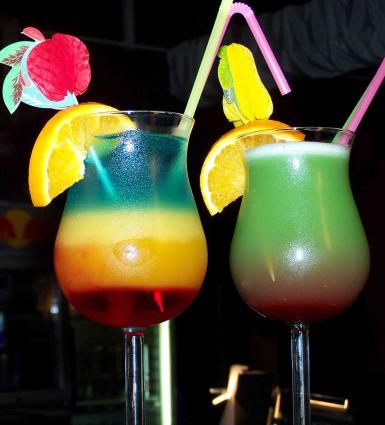 A non alcoholic fruit cocktail is the perfect compliment to a warm evening or a summer day. These delicious beverages offer many of the same ingredients as alcoholic cocktails, but without the presence of spirits. This means that you can drink as many cocktails as you want! While there are dozens of recipes and ingredients that make these cocktails delicious and interesting, the following drinks are some of the best, and they are sure to please nearly anyone who gives them a try.
Tasty Fruit Cocktails Without the Alcohol
Non alcoholic fruit cocktails can be the perfect drink for those hot summer days when you just want a delicious cocktail without the dehydration that sometimes comes with an alcoholic drink.
Apricot Mint Julep
The Mint Julep is a notoriously difficult drink to make, and bartenders have historically been judged on the basis of their Julep-conjuring abilities. This alternative Mint Julep recipe is a touch easier, and has the added twist of apricot and a touch of citrus. Begin making your drink by pureeing two small apricots. Using ripe fruit will make the drink extremely sweet, while firmer apricots will result in a slightly tart tasting drink. When the apricots are pureed about halfway, add a mint leaf, several drops of lime juice, two ice cubes and about a teaspoon of sugar or a packet of Splenda. Blend all of the ingredients together in your blender, and then pour into a glass. For a sophisticated look, add another mint leaf to the mixture as a garnish.
Acapulco Gold
This non-alcoholic beverage is tasty and slightly exotic, but not overpowering. You'll need six parts pineapple juice and one part grapefruit juice; these can be mixed together beforehand. Next, add two parts coconut cream and two parts fresh cream. Stir these into the mixture slowly. This drink is finished with a large scoop of crushed ice. Add the mixture to the ice in a shaker and shake vigorously together. Do not strain the mixture before you serve it; it will taste perfectly delicious as it is!
Cardinal Punch
Similar to the alcoholic Cosmopolitan, Cardinal Punch combines citrus flavor in a largely cranberry drink with a little bit of sparkling water or ginger ale to make it just fizzy enough. Place ice cubes in a glass, and pour all of the ingredients over top of them. Start out with four parts cranberry juice, and add two parts orange juice to the mixture. One part lemon juice will make the drink a bit more tart, or you might opt to add one part lemonade for a lighter and more fruity beverage. Add as much or as little ginger ale or sparkling water as you like over top. The cardinal punch is great for warm days, so serve it with a straw and a slice of lemon on the rim of the glass.
Banana Colada
There's nothing like a Pina Colada on the beach or a patio to make for an exciting, refreshing evening. Bananas update this true classic. Take three medium bananas and slice them (you don't have to worry about cutting them too thick or thin). Place the slices into a blender along with one cup of milk, an eight-ounce can of sliced pineapples along with the pineapple juice, six tablespoons of coconut cream and two tablespoons of sugar or a substitute. Blend all of the ingredients together, and add two cups of crushed ice into the blender. Mix the ingredients again. Be forewarned; this is a very large drink, so you might want to consider sharing it with a friend!
Princess Margaret
Fruit lovers will absolutely die for the Princess Margaret non alcoholic fruit cocktail. Place several strawberries in a blender (about five medium sized strawberries will suffice), and add to them a large pineapple slice or two, several drops of strawberry syrup and a cup of crushed ice. Squeeze out the juice of half of a large lemon and half of a medium-sized orange onto the mixture. Blend them together in the blender until smooth. This beautiful fruit cocktail beverage will look particularly attractive served with a red straw and a fresh strawberry on the rim of the glass.
Enjoy One Anytime
Since these cocktails are alcohol free, you can enjoy them anytime of day. Have one with breakfast, lunch or dinner, and savor the delicious combination of fruity flavors.