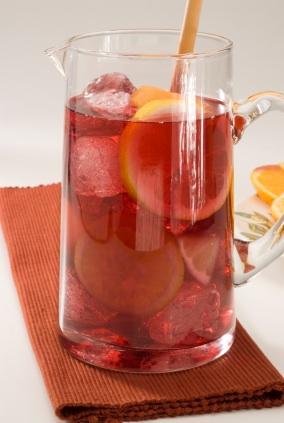 If you love the cooling taste of a sangria, you will likely love a wide variety of Spanish drink recipes. Most are perfect for summer sipping, and they're all simply delicious.
Five Awesome Spanish Cocktails
Sangria Recipe
This is a recipe for a classic sangria that is delicious on a hot summer afternoon or perfect with a Spanish tapas menu.
Ingredients:
2 bottles of chilled dry red wine, such as Rioja (a traditional Spanish red)
1 cup of brandy
1 cup of orange juice
1/4 cup of granulated sugar
2 oranges, sliced into thin rounds
2 lemons, sliced into thin rounds
2 limes, sliced into thin rounds
2 apples, cut into 1/2-inch pieces
2 cups of cold sparkling water or club soda
Directions:
In a large bowl, combine the wine, brandy, orange juice and sugar. Stir until the sugar is dissolved.
Add the slices of orange, lemon, lime and apples.
Refrigerate the drink until it's well chilled and the flavors have blended together. This will take about two hours.
Remove the drink from the refrigerator, and add the soda or sparkling water just before serving it.
White Sangria Recipe
White Sangria is just that - sangria made with white wine instead of red wine. It is a style of sangria with a ton of flavor and a much cleaner palette than the red version.
Ingredients:
1 1/4 cups of water
1 cup of of fresh mint leaves
1/2 cup of sugar
2 sticks of cinnamon
3 1/2 cups of dry white wine, such as an Albarino
2 peaches, pitted and thinly sliced
2 pears, cored and cut into chunks
2 oranges, thinly sliced into rounds
2 lemons, thinly sliced into rounds
3 cups of sparkling apple cider
Directions:
Combine the water, mint leaves, sugar and cinnamon in a small saucepan. Bring it to a boil over medium heat.
Reduce the heat and simmer for ten minutes. Remove the pan from the heat, and allow it to cool down.
Strain out the mint leaves and cinnamon sticks.
Transfer the remaining mixture to a large bowl, and add the wine and peaches, pears, oranges and lemons.
Mix everything together, and refrigerate the drink until it's chilled. Just before serving, mix in the apple cider.
Serve the drink in rocks glasses with ice.
Tinto de Verano Recipe
Tinto de verano translates to "red wine of summer". This drink is served throughout Spain during the long, hot summers. While it is similar to sangria, it has less alcohol; this makes it a much better drink to sip while sitting in the sun.
Ingredients:
2 cups of dry red wine, such as Rioja
2 cups of lemon-lime soda
4 lemon slices
Directions:
Mix together all of ingredients in a pitcher with ice.
Serve the drink in tall glasses filled with ice, and garnish them with more lemon slices.
Agua de Valencia Recipe
The first agua de Valencia was served in 1959 at Cafe Madrid de Valencia in Valencia, Spain. While it was popular among locals, it didn't become a national phenomenon until the 1970s. This tasty cocktail is created with cava, a Spanish sparkling wine. If you can't find cava, substitute champagne or prosecco.
Ingredients:
8.5 ounces of cava or sparkling wine
2.5 ounces of orange juice
3 ounces of Cointreau, or other orange liqueur
1.75 ounces of granulated sugar
Directions:
Mix all of ingredients together in a pitcher.
Chill the drink in the refrigerator for two hours, and serve it in tall glasses with ice.
Zurracapote Recipe
Similar to sangria, Zurracapote is a mixture of red wine, fruit, sugar and cinnamon. It is steeped for many days, and it's usually prepared in big batches for fiestas and parties.
Ingredients:
17 ounces of dry red wine, such as Rioja
9 ounces of dried peaches, cut into large pieces
3.5 ounces of raisins
3.5 ounces of prunes, cut in half
7 ounces of granulated sugar
A cinnamon stick
The peel of one lemon
Directions:
Soak the peaches, raisins and prunes in lukewarm water for two hours.
Pour the red wine into a saucepan. Add sugar, cinnamon and lemon peel.
Heat the pan until the mixture comes to a gentle boil. Remove it from the heat and stir.
Strain the dried fruit, and add it to the wine mixture.
Cover the saucepan with a lid, and return it to a boil for about 15 minutes.
You can serve this drink either hot or cold.
Quality Wine Is a Must
The key to all of these cocktails is to make them with quality wine. That said, you also don't want to waste a very expensive bottle of wine by adding fruit, sugar and juice to it - which you'll do for most all Spanish drink recipes. Stay within the $10.00 to $20.00 range, and you are sure to have a delicious cocktail that doesn't break the bank.