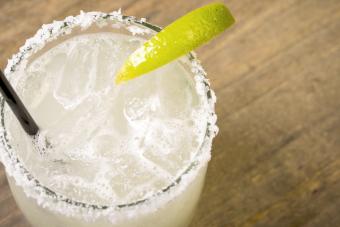 Ingredients
Lime wedge and salt for rim
2 ounces tequila
1 ounce freshly squeezed lime juice
¾ ounce triple sec
½ ounce agave
Lime wedge for garnish
Instructions
To prepare rim, rub the rim of the glass with the lime wedge.
With the salt on a saucer, dip either half or the entire rim of the glass in the salt to coat.
In a cocktail shaker, add ice, tequila, lime juice, triple sec, and agave.
Strain into prepared glass.
Garnish with lime wedge.
Variations and Substitutions
A margarita is as unique as the person making or drinking it.
Are you a spicy person? Muddle a jalapeño coin or two to give yours a little kick.
Do you find yourself with a sour face at times? Up the lime juice slightly for a tarter margarita, or add a quarter to a half-ounce of lemon juice to round out the sour citrus flavors.
Are you the type of person to love a good campfire? Time to put the silver tequila away and open the mezcal for a smokey triple sec margarita.
Do others often describe you as sweet? Add a little extra agave to bring that to your drink, and if you're out of agave, honey or simple syrup work great, too!
Garnishes
Most would consider a margarita as fully dressed with a salt rim and a lime wedge. If you're looking to change things up, you can use sugar instead of salt for your rim, or skip the rim entirely if that's not the margarita journey for you. Use a lime wheel or modernize your triple sec margarita with a dehydrated citrus wheel to dress it up a little more. If you want to highlight the orange flavors of triple sec, add an orange wheel or use an orange ribbon or twist for a beautiful pop of color.
About the Triple Sec Margarita
Triple sec, an often overlooked ingredient that many don't look at other than its use in margaritas or other mixed drinks, is an orange-flavored liqueur that was first introduced in France nearly two hundred years ago. Surprised? It's a great new fact to share with your friends over a margarita. It's the Dutch who are responsible for triple sec's counterpart, curaçao.
Some claim that it was in 1834 that triple sec first came to be, its humble roots beginning in a kitchen. Inspired by the Dutch, Jean-Baptiste and Josephine Combier wanted to deliver a crisper orange product, dropping the added herbs and spices and instead focusing on the oranges, soaking orange peels to create the signature orange triple sec flavor. Cointreau wouldn't make an appearance on the world stage until over forty years later.
Hang On Just a Sec
Orange liqueurs aren't exactly at the top of anyone's trivia list, but the margarita with triple sec should be. So go show off your triple sec margarita to your friends and wow them with your new knowledge.