Harry Potter Butterbeer Recipes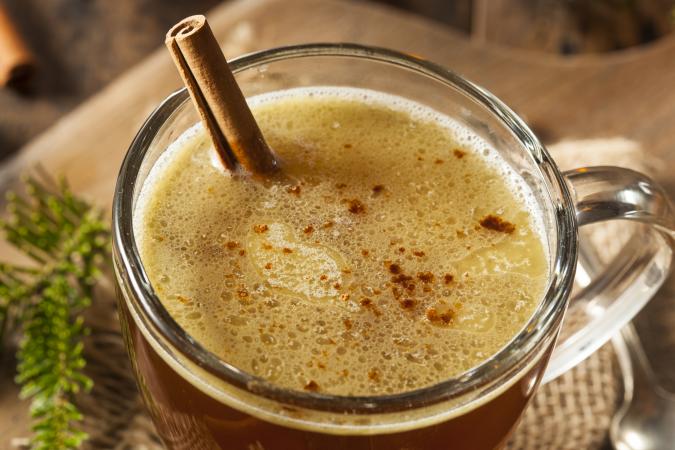 Butterbeer is a popular beverage found in the Harry Potter series; it's something the Hogwarts students enjoy when out and about with friends. This recipe includes both alcoholic and non-alcoholic versions.
Classic Butterbeer Recipe
You control whether this drink has alcohol by varying the type of bottled beverage you mix in with the other ingredients.
Ingredients
Yield: 4 drinks
1/4 cup butter (1 stick)
1 cup dark brown sugar
1/2 cup heavy cream
1/4 teaspoon freshly grated nutmeg plus extra for garnish
2 (22-ounce) bottles of cream soda (for an alcohol-free version) or pumpkin ale, amber ale, or hard cider
Nutmeg (for garnish)
4 cinnamon sticks (for garnish)
Instructions
In a medium saucepan, melt the butter and brown sugar together, stirring frequently.
Stir in the heavy cream and the nutmeg until well combined. Remove from the heat and allow to cool to room temperature.
Divide the cream, brown sugar, and butter mixture among four large mugs or glasses.
Fill each with the ale, cider, or cream soda. Stir to mix well.
Top with a grating of fresh nutmeg and a cinnamon stick for garnish.
Serving Suggestion
Serve as-is or pour over ice, depending on your preference.
Frozen Butterbeer Blender Concoction
If you want the flavor of butterbeer in a decadent frozen ice cream drink, you're sure to love this blender variation. You can create a non-alcoholic version or add spirits for a sinfully sweet cocktail that pulls double-duty as a dessert (how's that for magic?)
Ingredients
Yield: 4 frozen drinks
3/4 of a cup of crushed ice
1 quart of vanilla ice cream
1/3 cup of butterscotch ice cream topping (such as Smucker's) or butterscotch schnapps (depending on whether you prefer an alcohol-free version or not)
3 12-ounce cans of cream soda
4 shots of vodka or light rum (optional)
Nutmeg (for garnish; optional)
4 cinnamon sticks (for garnish; optional)
Whipped topping in a spray can (for garnish; optional)
Instructions
Place the first four ingredients in a blender.
Blend until smooth (approximately one minute).
Add liquor if using it.
Process another 30 seconds to thoroughly combine.
Test the consistency. If it's too thick, add a bit more water or cream soda and blend for another 30 seconds. If it's too thin, add a bit more ice and blend again.
Top with a tall squirt of whipped cream (if using).
Finish with a grating of fresh nutmeg and a cinnamon stick for garnish (if using).
Serving Tips
If you know that you like thinner or thicker milkshakes, adjust the amount of ice or soda appropriately, keeping in mind that reducing the quantity of cream soda will also reduce the sweetness. If you find that the mixture separates a bit, stir gently. Consider serving with an iced tea spoon so it will be easy to stir gently as needed.
Add Some Magic
For either recipe, you can garnish with a cinnamon stick and nutmeg, as mentioned in the recipe, or you can sprinkle it with edible gold sprinkles to give it a little bit of extra magic.