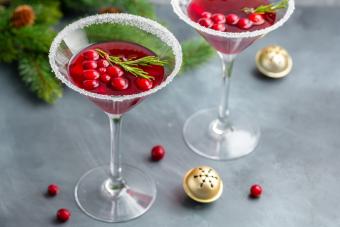 Instructions
To prepare rim, rub the rim of the martini glass or coupe with the lime wedge.
With the sugar on a saucer, dip either half or the entire rim of the glass in the sugar to coat.
In a cocktail shaker, add ice, vodka, cranberry juice, elderflower liqueur, rosemary simple syrup, and cherry bitters.
Shake to chill.
Strain into prepared glass.
Garnish with cranberries and rosemary sprig.
Variations and Substitutions
The Christmas martini can easily be modified to best suit personal flavor preferences.
Use cherry vodka for a juicier flavor.
Swap cranberry and cherry flavors, using tart cherry juice and cranberry bitters.
Add a splash of lemon juice for a brighter flavor.
Instead of rosemary simple syrup, use cinnamon or thyme.
Replace elderflower liqueur with orange liqueur.
Garnishes
Don't overlook garnishes--they're just as important a part of the cocktail as the liquid ingredients.
Use red, white, or rainbow sprinkles instead of sugar.
Skip the rim entirely if you don't want a sweet garnish.
A single lemon twist gives a pop of gold, even on its own.
Include a lime wheel, or a dehydrated wheel, for a new look.
Opt for an orange wheel or wedge for a sweeter citrus spin.
About the Christmas Martini
Ho, ho, holy cow is this a delicious holiday drink. While not technically a martini (the classic contains only gin or vodka, dry vermouth, and an olive or lemon peel garnish), the fact this is served up in a martini glass is enough to call it one--proof that the definition of martini has loosened up over the years.
Many bartenders and mixologists have sought to create their own perfect Christmas martini. This one has a lovely red color and traditional holiday flavors that will help you start the season right and stay in the holiday spirit. In fact, this may just become the favorite holiday spirits of sophisticated Santas everywhere. Just keep it away from the Elf on the Shelf--who knows what kind of trouble that guy can get into after a few drinks.
Cheers to the Season
Shaking up a Christmas martini is a memorable way to toast your way through the holidays. Whether you're enjoying one at a party, leaving it out for Santa, or you've decided to have a quiet night to yourself with some fuzzy warm blankets and a good movie, this martini will become a new staple.