A nonalcoholic mimosa is a perfectly tangy way to start the day without worrying about the dangers of overdoing your brunchtime fun. While this orange juice and champagne cocktail is well-known for its minimal ingredients, adding different juices and syrups can help round out the flavors of a virgin version. Here are a few of these nonalcoholic mimosa recipes to take the place of your morning cup of joe.
Nonalcoholic Mimosa
Since the original mimosa involves just two ingredients, it might seem like it'd be rather difficult to create a similarly tasty drink without one of those components. Yet, there's actually a lot of ways you can personalize and metamorphose a nonalcoholic iteration to be just as delightful as the original breakfast and brunch staple.
Ingredients
4 ounces orange juice, chilled
4 ounces sparkling water, chilled
Ice
Orange, sliced for garnish
Instructions
In a champagne flute, combine orange juice and sparkling water.
Add ice and stir.
Garnish with an orange slice and enjoy.
Limeade Virgin Mimosa Recipe
For a drink that will provide you with all of your daily vitamin C, try out this limeade mimosa. This slightly sourer flavor is great for those who aren't entirely sold on orange juice and favor snacks like sour punch straws and war heads. Yields 10 servings.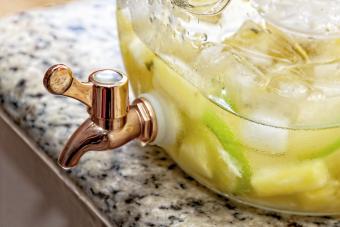 Ingredients
2 cups limeade, chilled
8 cups orange juice, chilled
Lemon-lime soda to taste
Ice
Orange, sliced for garnish
Instructions
In a pitcher, mix the limeade and orange juice, adding small amounts of lemon-lime soda as desired.
Fill a champagne flute with ice and pour in about 8 ounces of your mixture.
Garnish with an orange wedge on the rim.
Tropical Virgin Mimosa
If you're a big fan of island fruits like pineapples and coconuts, then a tropical mimosa should be the next drink on your list to try. As many people already know, pineapple juice and orange juice make great bedfellows, and when mixed together into a virgin mimosa, a single sip will send you back to that cruise you took last summer.
Ingredients
1 ounce orange juice, chilled
1 ounce pineapple juice, chilled
2 ounces orange sparkling water
3 pineapple cubes
Ice
Instructions
In a champagne flute, combine all of the ingredients.
Add ice, if desired.
Garnish with a pineapple cube and serve.
Ginger Nonalcoholic Mimosa Recipe
You can experiment adding ginger to your original mimosa recipe for a taste that's more robust than your average mimosa. This recipe calls for maple syrup and ginger ale as well to really combat the orange juice's overpowering citrus flavor. Yields 3 servings.
Ingredients
8 ounces orange juice, chilled
16 ounces ginger ale
1 tsp maple syrup
Ginger sliced for garnish
Orange, sliced for garnish
Ice
Instructions
In a pitcher, combine orange juice and maple syrup and stir.
Carefully pour in the ginger ale and thoroughly stir the mixture.
Add ice to a champagne flute and pour in about eight ounces of the mixture.
Garnish with an orange slice and few pieces of fresh ginger.
Orange Dream Alcohol-Free Mimosa
If you want your morning mimosa to actually serve as your desert at your breakfast meal, look no further than this orange dream mimosa recipe. Adding extra sugar and half and half helps elevate this tart treat to a drink made to satisfy a sweet tooth.
Ingredients
¾ cup superfine sugar
2 cups orange juice, chilled
1 cup half and half cream
4 tsp orange zest
Sparkling water
Orange, sliced for garnish
Instructions
In a blender, combine the orange juice, half and half, superfine sugar, and orange zest. Blend until the sugar has completely dissolved.
Pour the mixture into a flat pan, cover, and put into the freezer for about six hours.
Scoop out about a ¼ cup of the orange mixture into a champagne glass and cover with sparkling water.
Garnish with an orange slice.
Easy Flavor Variations
If you're looking for the fastest way to personalize a nonalcoholic mimosa, just mix equal parts flavored sparkling water with frozen pureed fruit. Here are some of these go-to flavor pairings.
Kiwi sparkling water + strawberry puree
Orange sparkling water + mango puree
Cranberry sparkling water + grape puree
Apple sparkling water + white grape puree
The Best Morning Starts With a Nonalcoholic Mimosa
If you've always been a bit hesitant to drink an alcoholic beverage at the beginning of your day but have wanted to enjoy the pleasant flavors of a mimosa right after you've woken up, then these virgin mimosa recipes should help you fulfill that desire and put a spring in your step.