There's an endless number of virgin strawberry margarita recipes out there, and it makes sense considering that the mocktail is one of the most requested nonalcoholic drinks around the world. The strawberry version of the classic margarita is easily adaptable to a nonalcoholic mixture so long as you rely on the bold, natural flavors of the base ingredients instead of the alcoholic burn to give the drink its flavor. Take a look at how to make your own virgin strawberry margarita come to life.
Virgin Strawberry Margarita
Omitting the triple sec and tequila that's typically used to make margaritas, this virgin strawberry margarita recipe muddles fresh ingredients together with sour mix and seltzer to create a light and refreshing mocktail.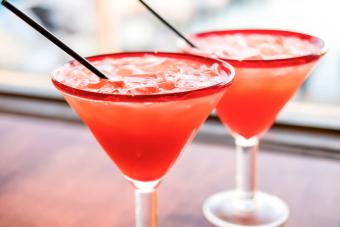 Ingredients
2 ounces sliced strawberries
1 tablespoon sugar
2 ounces sweet and sour mix
Ice
Strawberry seltzer
Strawberries for garnish
Instructions
In a cocktail shaker, muddle the sliced strawberries, sugar, and sweet and sour mix.
Add ice and shake until chilled.
Strain into a margarita glass preferably, or whatever other glass, like a martini glass, that you have on hand, and top with strawberry seltzer.
Garnish with strawberries and serve.
Modern Variations of the Virgin Strawberry Margarita
If you prefer your margaritas frozen or you need to make a bigger batch of mocktails at once, turn to these modern variations on the tasty strawberry treat.
Virgin Strawberry Margarita Pitcher
This virgin strawberry margarita pitcher lets you make about four individual servings all at once, helping to cut down on your prep time and maximize on family-time.
Ingredients
2 cups sliced strawberries
¼ cup sugar
8 ounces sweet and sour mix
12 ounces lemon-lime soda
Ice
Instructions
In a pitcher, muddle the sliced strawberries, sugar, and sweet and sour mix.
Once muddled, add the ice and lemon-lime soda.
Vigorously mix the ingredients together using a ladle.
Pour into margarita glasses filled with ice when you're ready to serve.
Frozen Strawberry Margarita Mocktail
While some people prefer to drink their Margaritas on the rocks, others enjoy having theirs blended into a smooth, cool mixture. Check out this frozen strawberry margarita mocktail recipe to fix up your own slushy and fruity beverage.
Ingredients
Lime wedge for garnish
Rock salt for garnish
2 ounces frozen strawberries
1 tablespoon sugar
2 ounces sweet and sour mix
2 ounces strawberry flavored water
2 cups crushed ice
Strawberry for garnish
Instructions
Take a chilled margarita glass and coat the rim in lime juice, dipping the rim into a plate full of rock salt. Set aside.
In a blender, combine the frozen strawberries, sugar, sweet and sour mix, strawberry flavored water, and ice.
Blend until smooth and pour into a chilled margarita glass.
Garnish with a strawberry and serve.
Virgin Strawberry Margarita Jello Shots
Perfect for birthday parties and family events, these nonalcoholic strawberry-flavored margarita jello shots are bright red, intensely flavored, and give a bit of a kick with their salt-coated rims. This recipe makes about twelve jello shots.
Ingredients
1 lime wedge for garnish
Rock salt for garnish
1½ cups strawberry flavored water
2 packets strawberry gelatin
¾ cup orange juice
¼ cup freshly squeezed lime juice
Instructions
Take about a dozen disposable jello shot containers and coat their rims with the lime wedge.
Dip each of them into a plate of rock salt and place them in the fridge to set.
In a saucepan, pour the strawberry flavored water. Add the gelatin packets and allow it to soften.
Once the gelatin has loosened, put the saucepan on medium heat and stir until the powder has completely dissolved.
Remove from the heat and whisk in the orange juice and lime juice.
Once cooled, pour the mixture into the prepared jello shot containers and refrigerate for about three hours before serving.
Ways to Garnish a Strawberry Margarita Mocktail
If you've got an artistic itch you can't scratch, give one of these cocktail garnishes a try. Even those without an artistic bone in their body can toss a piece of fresh fruit onto their finished mocktail to create an easy, and impressive-looking, drink.
Take vertical bisections of a few large strawberries so that they show the interior of the strawberries on both sides, and have the leaves still on top, dropping them into the margarita to garnish.
Coat the rim in sugar or salt depending on your personal tastes.
Drizzle some strawberry sauce on the inside of your margarita glass before you pour in your strawberry 'rita.
Make a strawberry flower by using a straw to take out the center and stem, and then using a paring knife gently cut 'petals' into the strawberry in a circular fashion, never cutting entirely through the fruit. Place on top of your finished drink.
Spear a strawberry or lime wedge onto the rim of your margarita glass for a classic garnish.
In Str-Awe-Berry of These Virgin Margaritas
There's nothing that feels like you're ringing in the springtime, quite like enjoying a strawberry-flavored beverage. Take some of the pressure out of meal planning and party hosting and add one of these super simple virgin strawberry margarita recipes to your repertoire. When you get thirty extra minutes to rest your eyes before your friends come over, you'll be happy that you did.