People have been spiking their favorite drinks for decades. Whether it's by adding Bailey's to their cups of coffee or heating up a mug of peppermint schnapps hot chocolate in the coldest days of the year, everyone has a go-to combination that they love. To ring in the wintertime yourself, check out these different hot chocolate recipes that include the beloved frosty liqueur - peppermint schnapps.
Spiked Mint Hot Chocolate
In just the same way that you'd toss a splash of Irish Cream into your morning cup of joe, so too can you add a little bit of peppermint schnapps to an already prepared mug of hot chocolate. Make sure to stir the two ingredients together to get the full effect of the minty addition in every sip.
Instructions
1 cup freshly heated hot chocolate
1 ounce peppermint schnapps
Marshmallows for garnish
Candy cane for garnish
Ingredients
In a mug, combine the hot chocolate and peppermint schnapps.
Stir using a cocktail spoon and garnish with some marshmallows and a candy cane.
Peppermint Schnapps Hot Cocoa Variations
If you're feeling creative, take a look at these more complex peppermint schnapps hot chocolate recipes and get inspired to experiment with the ingredients in your own mug.
Boozy Homemade Hot Chocolate
Perfect for the people who love to make everything from scratch, this Boozy Homemade Hot Chocolate recipe breaks down exactly how you can make your own homemade hot chocolate to pair with your bottle of peppermint schnapps.
Ingredients
2 tablespoons unsweetened cocoa powder
2 tablespoons sugar
Dash of salt
1 cup whole milk
¼ tablespoon vanilla extract
1 ounce peppermint schnapps
Marshmallows for garnish
Peppermint stick for garnish
Instructions
In a saucepan over medium-low heat, whisk the cocoa powder, sugar, salt, and a splash of whole milk together.
Once both of the powders have dissolved, turn the heat up to medium and whisk in the rest of the milk.
Once the mixture is heated, stir in the vanilla extract and remove from heat.
Pour about half of the mixture into a mug and add the peppermint schnapps.
Top with marshmallows and a peppermint stick and serve.
Peppermint Patty Hot Chocolate
Filled with chocolatey and minty goodness, this peppermint patty hot chocolate recipe emulates the foil-wrapped grocery store candy with its chocolate liqueur, vanilla vodka, and peppermint schnapps.
Ingredients
1 cup freshly heated hot chocolate
½ ounce Godiva chocolate liqueur
½ ounce peppermint schnapps
½ ounce vanilla vodka
Whipped cream for garnish
Crushed peppermint candy for garnish
Instructions
In a mug, combine the hot chocolate, chocolate liqueur, peppermint schnapps, and vanilla vodka.
Using a frothing wand, stir the ingredients together.
Top with whipped cream and a sprinkling of crushed peppermint candy and serve.
Boozy Blizzard Hot Chocolate
As frosty as a blizzard and as white as snow, this boozy blizzard hot chocolate recipe brings the sweetness of white chocolate and chill of the peppermint schnapps together for a delightfully cool winter beverage.
Ingredients
1 cup freshly heated white hot chocolate
½ ounce Godiva white chocolate liqueur
1 ounce peppermint schnapps
Marshmallows for garnish
Cinnamon stick for garnish (optional)
Instructions
In a mug, combine the white hot chocolate, white chocolate liqueur, and peppermint schnapps.
Stir using a cocktail spoon and garnish with marshmallows and a cinnamon stick (optional).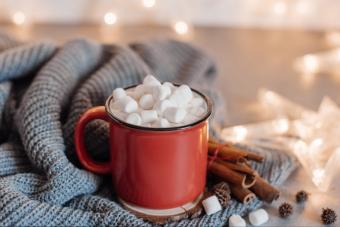 Ways to Garnish Hot Chocolate With Peppermint Schnapps
Taking the time to properly garnish a drink can turn any drink into a spectacle. The possibilities for garnishing a mug of hot cocoa are endless, but here are a few ones that you can whip up in no time at all:
Drop a candy cane into the mug to use as a stirring stick and as a desert to enjoy after you've finished your drink as well.
Place a full cinnamon stick in the drink to give it a bit of a kick and a heady aroma; it can even double as a stirring stick.
Top with a sprinkling of marshmallows (miniature, regular, or jumbo); and, if you're experienced in the kitchen, you can lightly toast the marshmallows using a cooking torch.
Drop in a dollop of whipped cream on top of a finished mug.
Sprinkle peppermint bark, milk chocolate, white chocolate, or dark chocolate shavings on top.
Crush candy canes and sprinkle the crumbles on top of the mug.
For a subtler finish, garnish with a few large mint leaves.
Popular Liqueur Substitutions
Admittedly, a lot of people don't enjoy peppermint, citing its (sometimes) overwhelmingly frosty coolness as their justification, and even more people aren't fond of pairing chocolate with mint. If you find that you want a differently flavored hot chocolate or want to test out some combinations with peppermint to see which one makes your taste buds sing, check out these common substitutions:
Butterscotch schnapps
Amaretto
Chambord
Cinnamon schnapps
Vanilla schnapps
Crème de Cerise
Frangelico
Crème de sacao
Crème de menthe
A Mug of Fire and Ice
The warmth of hot cocoa fights perfectly against the cool bite of peppermint schnapps, with each one serving to counteract each others' intensity and results in a deliciously balanced drink. Once you give one of these peppermint schnapps hot chocolate recipes both a try and a taste, you won't want to ever go back to drinking plain ole hot chocolate again.