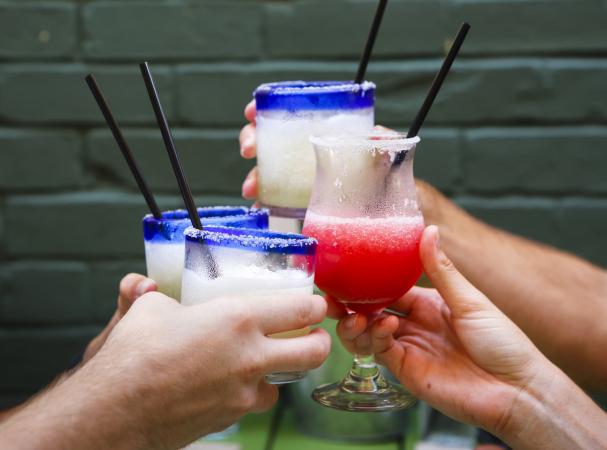 Since traditional margaritas pack a hefty alcoholic punch that may not be appropriate for consumption in certain scenarios, it's a good idea to have a tasty virgin margarita recipe on hand. A balanced ingredient mixture provides the refreshing flavor of the cocktail without compromising verbal and motor skills.
The Road to Margaritaville
Tequila, the alcohol used in a conventional margarita, first gained popularity in the 1940s when the priorities of World War II halted the importation of whiskey and drinkers turned to Mexican tequila as an alternative. When the war ended, tequila got pushed to the back of the alcohol cabinet and was "rediscovered" in the '70s, when rock and roll bands like The Rolling Stones and The Eagles wrote songs about it. Singer Jimmy Buffett secured this liquor's place in history in 1977 with his hit song Margaritaville.
Basic Virgin Margarita Recipe
Although there are hundreds of variations on which ingredients should be included in a traditional virgin margarita recipe, this one is easy to mix and uses readily available ingredients. If possible, serve the drink in a traditional stemmed margarita glass, available at home décor and department stores.
Ingredients
1 6-ounce can frozen limeade concentrate, thawed
1/4 cup orange juice
2 tablespoons kosher salt
1/2 lime, cut into 4 equal size wedges
4 cups ice cubes
Preparation
Moisten the rim of the serving glasses with a little lime juice.
Put the salt in a large saucer or shallow pie pan.
Invert each glass in the salt, and gently twist to coat the rim with salt.
Place the limeade concentrate, orange juice and ice cubes in a conventional blender or frozen drink mixer.
Blend at high speed until the ice pulverizes and the drink is thoroughly mixed.
Pour into glasses and be careful not to disturb the salt on the rims.
Garnish the drinks with lime wedges and serve.
Giving Margarita Some Glam
Just like her alcohol-infused cousin, the virgin margarita can be dressed up with different flavors and textures.
Frozen Virgin Strawberry Margarita
Ingredients
1 6-ounce can frozen limeade concentrate, thawed
1 10-ounce package frozen strawberries in syrup, thawed
3 cups water
3/4 cup orange juice
1 liter bottle lemon-lime soda (like Sprite or 7-Up), chilled
Preparation
Place strawberries in the bottom of a blender container and add the thawed limeade.
Blend until well mixed and smooth.
Add water and orange juice and mix well.
Pour mixture into a lidded plastic container and freeze until slushy, checking often to prevent it from solidifying.
Fill tall glasses 2/3 full of limeade-strawberry mixture, top with soda and stir before serving.
Mango Lime Virgin Margarita
Ingredients
1 large ripe mango, cubed, about 1 1/4 cups
1/2 cup freshly squeezed lime juice
1/4 cup sugar
3 tablespoons orange juice
1/2 cup water
2 ice cubes
2 lime slices
Preparation
Puree all ingredients except the lime slices in a blender or electric drink mixer and process until smooth. Serve in rocks glasses or stemmed glasses and garnish the rims with fresh lime slices.
Virgin Margarita with Lime Salt
Ingredients
1/2 cup water
1/2 cup sugar
2 tablespoons plus 1 teaspoon lime zest
2 tablespoons lemon zest
1 1/2 cups fresh lime juice
1/2 cup fresh lemon juice
4 cups orange juice
1/4 cup agave or corn syrup
2 tablespoons salt
Lime slices, for garnish
Preparation
In a small saucepan, mix the water and sugar together and place over medium heat.
Add all the lemon zest and two tablespoons lime zest.
Slowly bring to a boil, stirring constantly to dissolve the sugar.
When the sugar dissolves, remove the pan from the heat and let the mixture cool.
After the citrus syrup reaches room temperature, add the juices and syrup.
Mix well and chill well, at least two hours and preferably overnight, so the flavors can marry.
Mix one teaspoon of lime zest with the salt on a large saucer or shallow pie pan.
Rim the edges of the serving glasses with salt by rubbing a lime wedge on them, and then invert them on top of the salt and rotate until well coated.
Serve the drinks on the rocks or straight up and placd a lime slice on the rims for garnish.
More Virginal Options
Almost any alcoholic drink that has fruit as a main ingredient can easily be turned into a virgin drink by simply omitting the alcohol. Other popular alcohol-free drinks include Virgin Strawberry Daiquiris and Virgin Pina Coladas.